ANA Celebrates 40 Years of Boeing 767:
A Legacy of Resilience, Commemoration and Safety
ANA holds special gate event to commemorate the aircraft's 40th anniversary of its maiden flight.
All Nippon Airways Boeing 767 in flight.
Happy 40th anniversary, Boeing 767!
In 1982, the Boeing 767 made its debut as the first aircraft model to enable two-person operation, combining the responsibilities of a pilot and flight engineer, contrary to the traditional three-person crew. The 767 is known for its fuel efficiency, low noise levels and impressive climb performance, making it a high-tech aircraft.
ANA's first B767 made its inaugural flight 40 years ago on June 21, 1983, from Haneda Airport in Tokyo, to Matsuyama Airport in Ehime. Since then, it has played a significant role in ANA's domestic, short-haul international and cargo flights over the past four decades.
The aircraft was utilized for emergency flights during natural disasters, including the Great Hanshin Earthquake and played a vital role in facilitating the critical return travel of Japanese citizens to Japan during the COVID-19 pandemic.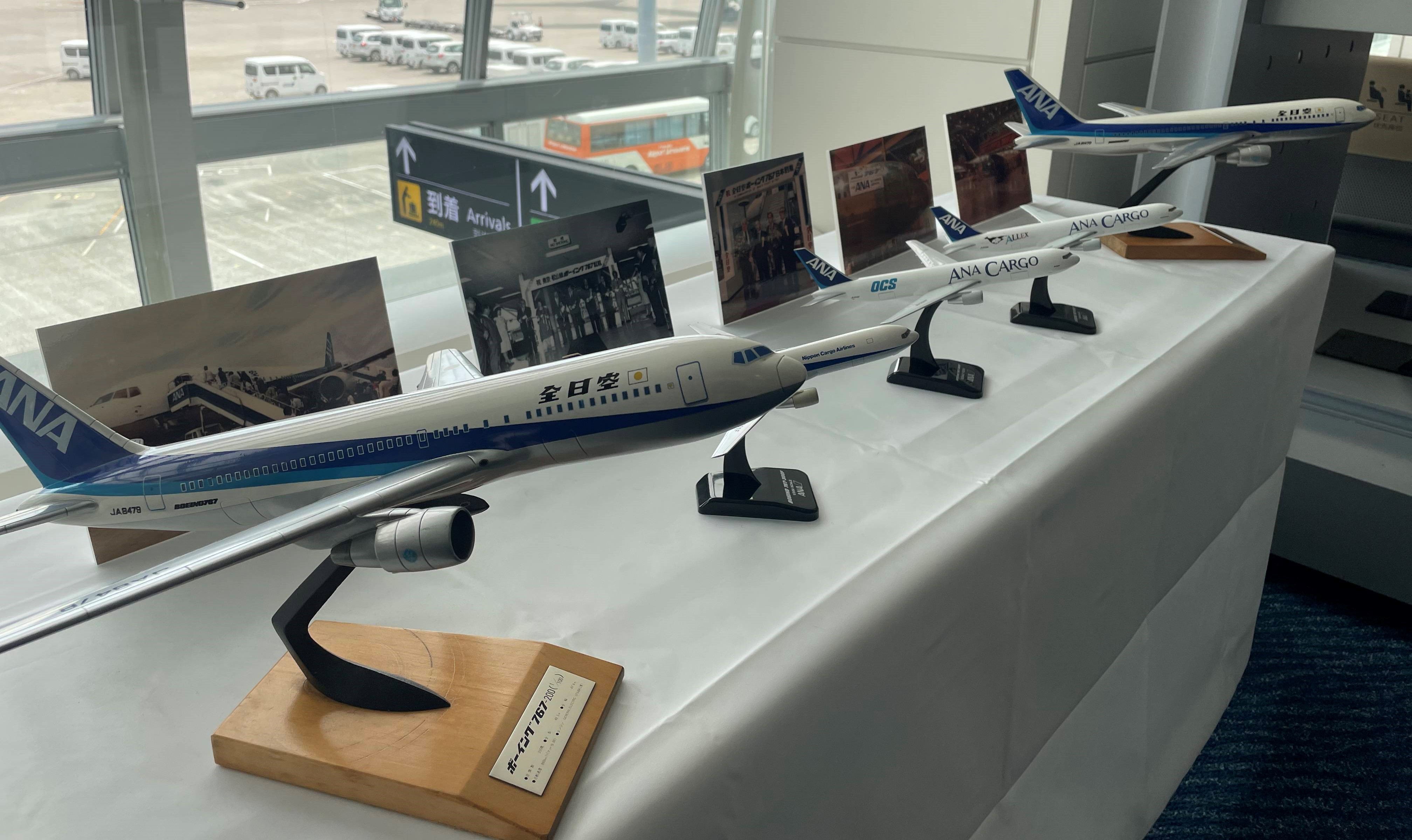 ANA model planes and memorabilia setup in celebration of Boeing 767's 40-year legacy.
To commemorate the Boeing 767's 40-year legacy, ANA held a special gate event at Haneda Airport last month, where the aircraft prepared for its departure to Matsuyama, mirroring its maiden flight four decades ago. Travelers and aviation enthusiasts stopped and photographed the model planes and images of the B-767.
The Cabin crew members dressed in the four different uniforms representing each era of the past 40 years and cabin crew members warmly welcomed boarding passengers while distributing commemorative neck straps and stickers.
Cabin attendants wearing uniforms representing each era the B767 has been in service.
During the event, Captain Yasuhiro Nakazato, a Boeing 767 pilot who is also celebrating his 40th birthday this year, delivered a speech before boarding, expressing his joy and excitement for the occasion.
For this story, we had the opportunity to speak with the captain and ask him about his experience with the aircraft.
Q: How is the 767 different from other types of aircraft?
Nakazato: The 767 stands out for its exceptional performance in relation to its size when taking off. It can reach cruising altitudes and make altitude changes smoothly during flight. A unique aspect of this aircraft is that it can be used not only as a passenger aircraft but also for cargo. These cargo variants have been crucial in supporting logistic operations, especially during the COVID-19 pandemic.
Captain Yasuhiro Nakazato celebrating the Boeing 767 40th anniversary.
Q: Are there any specific considerations when piloting the 767 compared to other aircraft?
Nakazato: Compared to other aircraft, the 767 offers a highly responsive and direct control experience. Piloting this particular aircraft is a delight and I thoroughly enjoy the piloting experience it offers.
Q: What do you like the most about this aircraft and do you have any memorable experience with the 767?
Nakazato: The 767 can fly for both domestic flights and long-distance international routes. Having flown this aircraft throughout my career, I developed a deep connection with it, being promoted to co-pilot while flying the 767.
One of the most memorable moments for me was when I piloted the aircraft for the first time during my upgrade training to become a co-pilot.
Captain Nakazato, ground handling staff and two maintenance engineers pose at the Boeing 767 40th anniversary event.
Q: Do you have any final comments for the ANA Stories audience?
Nakazato: The 40th anniversary allowed me to reminisce on the history of the 767. I am grateful for the efforts made by our senior leadership to establish and maintain this legacy. I will continue the ANA tradition of upholding safety operations and providing higher-quality service. The 767 offers a comfortable journey in the sky and I hope you will enjoy flying on the B767 for a long time to come.
ANA employees seeing off the celebratory B767 flight leaving Haneda to Matsuyama.