Unforgettable Culinary Experiences:
One Passionate Foodie's Journey to Japan ANA partners with creator of the popular food blog, Luxeat, to showcase
Japan's cultural and culinary wonders
For more than 70 years, it has been our mission at ANA to be the wings that connect the world. As Japan's largest airline, we strive to inspire those from around the globe to experience all that our country has to offer, uniting the world in wonder.
Luxeat food blogger Aiste Miseviciute
As a part of our efforts to welcome leisure travelers back to Japan, ANA is collaborating with Aiste Miseviciute, esteemed foodie, model and creator of the popular food blog, "Luxeat," who will be sharing her unforgettable journey of culinary and cultural exploration across the country.
With passion and expertise for the world of gastronomy, Aiste has also expanded her title to become a top restaurant guide and culinary event organizer.
Before creating Luxeat, Aiste was a world-renowned fashion model working for some of the biggest fashion brands in the world, constantly flying across continents for a living. While in New York in 2007, she started her blog, "Who Said Models Don't Eat?" as a cheeky remark to a tiring prejudice.
Aiste together with world-renowned chefs at the culinary event "Japan Meets Barcelona & Ibiza 2017" in collaboration with ANA.
Luxeat was created as an outlet to house Aiste's fascination of her new food experiences in fine dining as a fashion model. She said what drew her interest was not the luxury nor the exclusivity, but understanding what she describes as "the beauty on the plate." She wanted to know the story and the meaning behind what seemed more like a piece of art rather than a meal.
As her exposure to fine dining grew along with her modelling career, she was introduced to more chefs, artisans and other culinary artists. Her interest also became a way to understand her surroundings as she constantly found herself in new places as part of her job as a fashion model.
"The best way to travel is through your stomach," she said, with a smile.
At the age of 18, Aiste first visited Tokyo for a modelling job, and described her experience as love at first sight. She said one of her fondest memories was when she first tried an onigiri (a Japanese rice ball) from a convenience store. This is something she still looks forward to whenever she visits.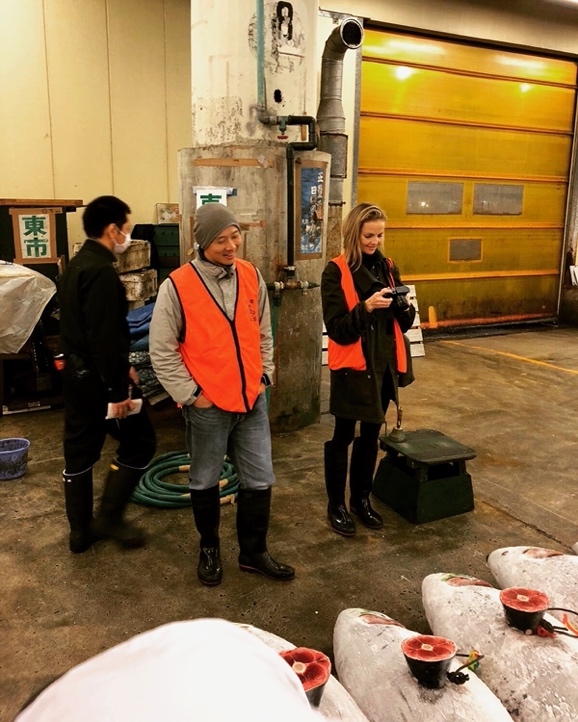 Aiste visiting a fish market in Japan.
"I fell in love with Japan - its food, culture and arts," she said.
"I admire the Japanese people, as I feel that there is a unique sense of loyalty and honor in their culture. This is demonstrated in everything they do. I feel that they want to deliver whatever they do in the best way possible while always staying humble. I later learned this is called Japanese hospitality, omotenashi."
Sharing the same passion for storytelling and culinary heritage, ANA collaborated with Aiste and her brand Luxeat in Spain (2017), London (2018) and Paris (2020), co-hosting multi-day culinary events. Renowned Japanese chefs, such as Takaaki Sugita, flew to Europe to introduce Japanese cuisine to a wider audience.
For Aiste, the partnership with ANA has opened up even more opportunities to share her passion. She said she also learned first-hand how ANA embodies the concept of omotenashi.
"The Japanese people are masters of making the simple – exceptional," she stated.
Aiste is driven by her dedication and is determined to continue discovering the cultural richness of Japan. With ANA, she will be sharing her unforgettable culinary trip and cultural experiences in Japan across her platforms this summer.
With that same sincere dedication, ANA is excited to be part of the journey as we continue to be a partner for travelers to uncover the many wonders Japan has to offer.
The content from Aiste's latest journey to Japan is now available on the"We Are Japan" site.