A New Chapter of Flight 3: Ishigaki/Iriomote Island
Home to endangered species and breathtaking views, the Iriomote Island provides visitors a unique taste of Japan.
Initiatives with the community
For the third installment of our "A New Chapter of Flight" series, we are visiting some of the most remote ANA gateways in Japan. As the country gradually opens its borders to international travelers looking to explore new destinations, ANA Group would like to introduce some of Japan's best-kept-secrets. These places offer breathtaking nature, exceptional experiences and always, a taste of Japan.
Today, let's fly to Ishigaki--the farthest domestic airport from Tokyo!
Iriomote Island, UNESCO World Heritage Site
A picturesque beach on Iriomote Island
Ishigaki Airport, Okinawa, is located approximately 1,242 miles (2,000 kilometers) southwest of Haneda Airport in Tokyo. ANA first began operating flights to Ishigaki 35 years ago. The airport connects Ishigaki Island to major cities in Japan, as well as destinations throughout Okinawa Prefecture and the Yaeyama Islands, and it is only a 75-minute flight away from Taiwan Taoyuan International Airport. Prior to the pandemic, the airport had over 2.6 million passengers annually and serves as the gateway to Iriomote Island. After an hour ferry ride, it is considered to be Japan's final frontier. In 2021, Iriomote Island was designated a UNESCO World Heritage natural site for being the home of protected species like the Iriomote Cat and the Crested Serpent Eagle.
Due to its international recognition, the island expects a surge of post-pandemic visitors. Local residents and hospitality businesses, including ANA, are working together to provide a balance between preserving nature and promoting tourism.
Residents and visitors enjoying sunset views
Preserving Iriomote's Unique Nature
With a population of 2,400, a majority of the island is covered by dense jungle and mangrove swamps. When visiting, take a guided hike into the mountains past beautiful waterfalls and streams filled with the largest freshwater prawn in Japan, the Macrobrachium Lars, as a kaleidoscope of Paper Kite butterflies dance in the sunlight above.
"Nature is very fragile," said Takenaka Yasunori, a ranger at the Iriomote Wildlife Conservation Center. "We would like visitors to learn all about the great nature Iriomote has to offer, but at the same time, we all need to behave humbly when encountering it. We do not own nature; we ask it to let us experience it."
Iriomote Cat caution road sign
The Iriomote Island Eco-Tourism Association is a local non-profit organization that aims to sustain the island as a place where humans and nature can coexist through conservation, eco-tourism and educational outreach.
In recent years, local residents have witnessed a rise in Iriomote cats killed by rental cars driven by visitors.
Littering is another problem on the island. Winds and tides carry trash thousands of miles to the beach of Iriomote, and over 90% of those items are plastic which can be accidentally consumed by sea creatures and local animals.
Local plastic cleanup
"If you think Iriomote Island is a great place to visit and enjoy its nature, please come and join us to clean up the beaches," Harumi Tokuoka, executive director of the Association, said. "It is our hope to preserve the island together with visitors."
Contributions by Hospitality Businesses
Local businesses are doing their part with conservation efforts. Iriomote Hotel, the biggest lodging facility on the island, has discontinued providing disposable amenities, such as plastic toothbrushes, combs and razors. Operated by the popular Hoshino Resorts, the facility aims to be the first "eco-tourism" hotel in Japan and now offers reusable water bottles and complimentary nature tours for guests.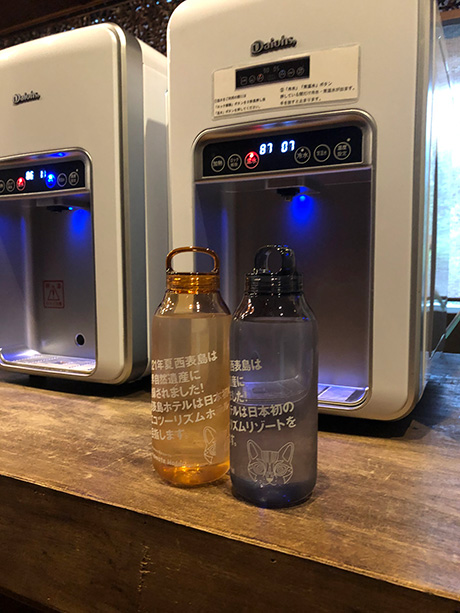 Iriomote Hotel reusable water bottles
Iriomote Hotel General Manager Masataka Hosokawa believes it is the responsibility of hospitality businesses to be part of conservation efforts. In doing so, visitors are able to "truly appreciate and enjoy the great nature."
That is a sentiment with which ANA Group is fully aligned.
"Our priority is not simply bringing in more passengers," Hideyuki Miyawaki, General Manager of ANA Ishigaki/Yaeyama, stated. "The nature of Iriomote Island is our heritage. It is our responsibility to have a long-term vision to preserve its unique ecosystem and conduct ANA's air travel business in a sustainable manner."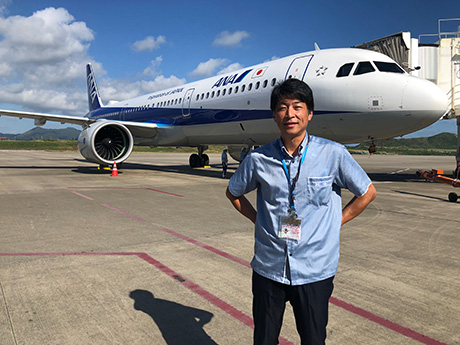 General Manager Hideyuki Miyawaki of ANA Ishigaki & Yaeyama
ANA Group is currently sending its employees to the local town office and the Iriomote Foundation to regulate the number of visitors and preserve Iriomote's great nature, including all of the endangered species that live there. The Group has hosted a seminar for employees of the Ministry of the Environment to prevent endangered species from being transported off the island.
Miyawaki envisions the ANA Group offering avatar and drone services in the near future to enable potential visitors to experience Iriomote Island without leaving the comfort of their home.
Though, nothing quite compares to actually being there. Take food for example. Tender Ishigaki beef, fleshy bluefin tuna, sweet and juicy pineapples and island specialty Yaeyama soba noodles are must-haves in the region.
* Individuals' affiliations and titles reflect those at the time of the interview.