ANA Promotes Airport Innovation
Through Partnership with Saga Airport
In the pursuit of modernized airport operations for a sustainable future, ANA and Saga Airport are testing innovative technologies to make airport operations simpler and smarter.
Remote-Controlled Mototok Spacer 8600 Tug.
While the world was put on pause by a global pandemic for the past two years, airports turned into ghost towns with deserted terminals and runways. What we did not see, though, was the movements taking place behind the scenes to make airport operations more resilient to the impact of outside events, such as a pandemic.
Although the concept of ANA's "Airport Innovation" began before COVID-19 struck, the programs continued to operate during the pandemic and are now bearing fruit at ANA's gateway airports in Japan as the country prepares to welcome back international visitors.
It all started at Kyushu Saga International Airport, where ANA Group has been testing cutting-edge, labor-saving technologies to make airport operations simpler and smarter.
ANA OSC Keisuke Yamamoto.
"The size of Japan's workforce has been shrinking rapidly. While aiming to create smaller and sustainable airport operation teams, we rethought what people and technologies should each do. We determined we could rely on technologies to do simple tasks consistently so that people could be reassigned and focus on more highly skilled functions," Keisuke Yamamoto, of ANA Operation Support Center, said.
Supported by the prefectural government of Saga, ANA designated Saga Airport to be the testing hub for "Airport Innovation" projects in 2019. The goal was to set up a model airport to test new smart technologies in real-life operational settings and utilize those technologies to create a more efficient and safer workplace for employees.
Autonomous Tow Tractor.
(Photo by 豊田自動織機)
The significance of the mission was only enhanced by the pandemic and the need to reduce human interactions.
But, why Saga?
"ANA has been the main operator at Saga Airport since its opening in 1998," said Yamamoto. "The size and the traffic volume are just right for us to set up a testing hub. Additionally, the prefectural government, which runs the airport, has been our trusted supporter and partner. It is an ideal situation."
Historically, Saga has been known for its innovative advancements. It contributed to ushering Japan into a modern era in the 19th century by introducing new technologies, such as open-hearth furnaces and steam engines.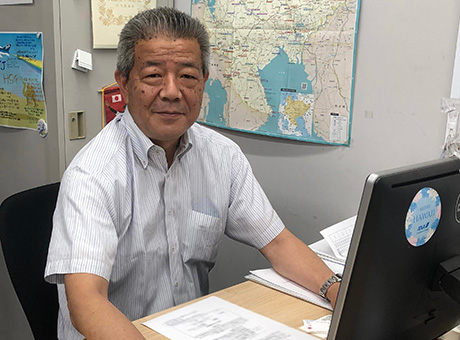 ANA/ANA Akindo Saga Hiroki Hirakawa.
ANA/ANA Akindo Saga General Manager Hiroki Hirakawa explained further.
"Saga is located in the center of northern Kushu, and the prefectural government positions it as the region's tourism hub. Saga Airport is a vital asset in the idea," he said.
Once ANA's testing site opened in March 2019, new technologies were brought to Saga including: the remote-controlled Mototok Spacer 8600 tug to pushback aircrafts, autonomous tow tractors and robotic bag loaders. Some of these technologies are already operating during actual flights.
Typically, an aircraft is pushed by a vehicle with a certified driver that takes 2-3 months of training to be licensed to conduct aircraft pushback. It is a job usually assigned to 10+ year employees. With the remote-controlled tug, however, it takes less than a month of training to be able to operate it safely.
ANA Air Service Saga Yuichiro Kawasaki.
"It is exactly like operating a radio-controlled car. It's very simple, anyone can learn the operations quickly," said Yuichiro Kawasaki, of ANA Air Service Saga. "Newly joined employees can handle it, too, once they are certified."
The remote-controlled tug enables a driver to have a better vantage point as they can be stationed anywhere within a 15-meter radius of the aircraft.
The conventional aircraft pushback takes 3 people to operate: a vehicle driver, a communicator between the driver and the flight deck, and a lookout to make sure the path is clear. The better vantage point can eliminate the third operator, proving the remote-controlled tug is a more efficient choice.
Robotic bag loader.
A robotic bag loader is currently being used to handle checked luggage for Boeing 737 flights at Saga Airport. It sorts luggage, excluding plastic bags, paper bags and umbrellas, and loads them onto carts to be transported to the aircraft. It takes 26 seconds on average for each piece of luggage to be packed onto the cart. The technology helps not only to handle luggage with less manpower but also to provide an injury-free workplace for the staff.
"As the 'Airport Innovation' model, we at Saga Airport take pride in testing the new technologies, providing feedback from users' perspectives, and finally sending them out to other airports for implementation," Kawasaki said.
To bring in technologies into a teamwork-oriented workplace is not always easy. It can alter team dynamics and workflows built over years. In addition, each airport operates differently, even under the same operational rules and functions. While new technologies continue to be generated and distributed in the aviation industry, it is important for the ANA Group to test them and turn them into assets and helpful tools.
"Through trials, we are gradually learning about discrepancies between the ideal and reality on site. We are at a transition period, and it is our challenge to fill the gap for our advantage," Yamamoto said.
Operation Support Center expects those technologies together would enable reducing the size of operational employees on the ramp by half (ex. a Boeing787 domestic flight typically takes a team of 10 on the ramp). The goal is to equip all ANA gateway airports in Japan with smart technologies once tested and proven in Saga.
ANA's innovative partnership with Saga goes beyond the test site. Together with the prefectural government, the Group promotes tourism in the region with the airport as one of the main attractions.
The Saga GM has hosted airport tours for businesses and students from outside Saga, highlighting its status as the "Airport Innovation" hub.
"With the trial and implementation of the latest airport operational equipment at Saga Airport, we are trying to appeal a spirit of innovation to potential visitors," said Hirakawa.
In July 2020, Saga Prefecture announced the launch of SAGANA (Saga & ANA) Project on the anniversary of the airport's opening in hopes of revitalizing the region's gateway airport and surviving the pandemic together. Over the past two years, the partners have held a variety of events such as concerts, airport tours, seminars, aviation classes for kids and avatar workshops. Currently, 11 ANA Group employees work at the prefectural government offices, planning and executing those projects.
Saga is relatively unknown to international travelers, but for those who have visited the area, it is often said to be a desirable location to have a secondary home. It is particularly famous for the over 2,000-year-old Yoshinogari archeological site, Arita and Karatsu porcelains, hot springs, the reconstructed Golden Tea Room, and delicious Yobuko squids.
Saga is famous for fresh Yobuko squid.
(© Saga Prefectural Tourism Federation)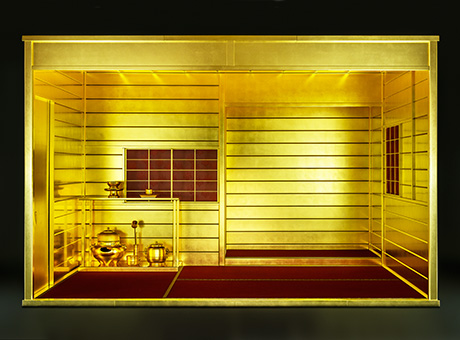 Reconstructed Golden Tea Room from the 16th century at Saga Prefectural Nagoya Castle Museum.
(Photo by Saga Prefecture)
Arita porcelain tea set.
(© Arita Town)
ANA Group's multi-layered partnership with Saga will continue as it strives to create a test and implement system to modernize airport operations for a sustainable future. When you are in Japan and see autonomous vehicles or a remote-controlled tug operating at airports, you can count on Saga's involvement in the innovations.