International Women's Day
Employee Roundtable (Part 2)Four ANA managers discuss the importance of
having role models and recognizing diverse career paths.
Diversity & Inclusion (D&I)
March 8 is International Women's Day, an opportunity for people around the world to celebrate the social, economic, cultural and political achievements of women. Women are vital to the continued success of ANA, and we are proud to have been recognized by Women's advocacy groups for our work to create an equitable workplace that values the contributions of women.
Four managers of the ANA Group, Noriko Abe, Maiko Imada, Yurika Iwano, and Megumi Toh participated in this two-part series on the role women play in moving ANA forward. Click here to read part 1 in this series.
Being a Woman in the Aviation Industry
Q: What is it like to be a female in a traditionally male-dominated industry?
Iwano: I learned quickly that women can do anything men can do. Diversity helps bring more ideas and innovations. I have been lucky to work on a team where everybody is encouraged to contribute regardless of gender, and I have not had a negative experience due to being a woman.
Megumi Toh enjoying a day off with her son
Toh: In the Cabin Attendant department, we are fortunate to have many female bosses. When I had a chance to attend a seminar organized by the Japan Business Federation, there were discussions on how female professionals are desperately looking for role models. Having a role model is important to show potential career paths and what is possible for others to achieve. I believe it is important for all ANA departments and teams to nurture more female leaders so that they can guide and mentor others.
Through my experience training cabin attendants, I've learned a coaching technique of encouraging individuals to leverage their strengths. I aspire to be the type of team leader who can recognize their unique contributions and bring them out to make a stronger team.
Abe: Out of the roughly 200 members within OMC, 30% of us are women. When I joined the department 13 years ago, the number was much smaller. There are moms with young children, and veteran moms who work the night shift. I can honestly say there are no limitations in what women can do in the workplace as long as you are willing to overcome challenges. A big part of our job is to communicate with other stakeholders inside the company and find the best-case scenario while prioritizing safety and maximizing profit. It is not something you can do by yourself. I am proud of how thorough and respectful our female colleagues are in the negotiation process.
Q: How would you rate the ANA Group as a female-friendly company? Do you have any advice to younger colleagues?
Imada: In terms of building a support system, nurturing potential and providing opportunities to women, I would give ANA top ratings. There are multiple programs we can take advantage of that encourage staff members to try something new or challenging. When it comes to promotional opportunities to managerial positions, I believe the company can do more to further educate on what it takes to lead, how to make the right decisions and what knowledge and experience is needed in order to be promoted. This is not specific to women; the education would support both women and men to take on leadership rolls and manage a team.
Iwano: I have a son in junior high school and a daughter in elementary school. As a full-time working mom, I have been professionally supported by the company through the HR system and emotionally by my colleagues. I am happy with my working environment. I have people who are willing to listen to what I have to say, support me and what I want to do, respect and help me when I need it. Regardless of gender, we all have unique needs and challenges in life, such as taking care of children or sick family members. I believe ANA Group knows how to support its employees as long as they voice their concerns.
Abe: I think older generations of women tend to shy away from advanced career opportunities and the company could communicate with them more. I am not a fan of evaluating the gender gap in the workplace simply by numbers and ratios. If the company does a good job identifying and nurturing those who have potential to lead and excel, it will naturally bring up the numbers we would like to achieve. The communication between the company and employees has to happen not only through HR meetings, but also through routine observations and dialogue. In order to encourage such interactions, we as managers, have to be better role models whom our teams can look up to.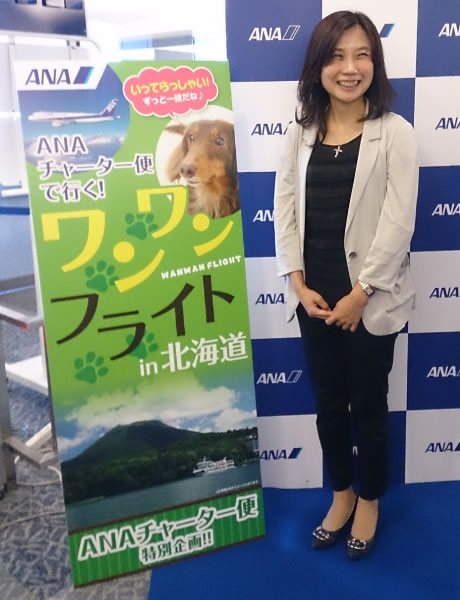 Maiko Imada at an ANA 'fly with your dog' event
Imada: The numbers do not necessarily show how much progress the company is making to minimize the gender gap. There are women who are not interested in moving up within the company. That's a personal choice. Having options is important but letting individuals make their own choices is equally as important. I believe that the company should seek to allow employees to decide what they want for their career paths.
Toh: I am satisfied with the education the company provides in order to nurture future leaders. There are regularly scheduled seminars and trainings for those who are at managerial positions. If you aspire to be promoted to those positions, there is a system and culture within our department to receive coaching directly from your managers.
Q: Where do you see yourself in 5 years? What progress do you want ANA Group to make in the next 5 years?
Iwano: This is my first year as a manager, I still have a lot to learn. In 5 years, I hope to be a relaiable manager like all of you here today. I will continue to support my team so that they can be their best self. We need different types of role models, and I hope my journey as a working mother can be one of the examples of what they can achieve.
Noriko Abe present day with 33 years of service at ANA
Abe: As mentioned, I have been with OMC for 13 years and I wish to remain here for the next 5 years. I believe my job is unique and requires specialized skills. I would love to continue assisting younger generations of female colleagues to learn those skills. But who knows, I may find something else at ANA I would like to do more.
Imada: Five years is not a long time. I have no idea where I would like to be in 5 years. For a company, though, it's a blink of an eye. I do not expect drastic changes, but I hope the ANA Group does not become too comfortable with how loyal we are to the company, to our jobs. Through this pandemic, I believe employee morale has been negatively affected. In the next 5 years, the company needs to work hard to bring back some of the motivation and excitement lost among the employees.
Toh: I have a 4-year-old child. It has been 3 years since I came back from a maternity leave. Every day, I feel like I never have enough time to manage both being a mom of a young child and working full-time at a managerial position, but somehow, I am making it work. And, I am aware that people are interested to see how I am doing. In the next 5 years, I wish to stay healthy and be a good role model to those who are considering similar life choices.
Q: Last question. If you have an opportunity to join a different team within the ANA Group briefly, which one are you interested in trying out?
Toh: I had an opportunity to work briefly on the EMEA (Europe, Middle East, and Africa) administration team as a trainee. Since it is a small office, I was able to get involved in many different functions. The biggest challenge the team faced was that the ANA brand was not well recognized in the market. If I was given a chance to work in a different team, I would love to work in Marketing to raise ANA's awareness overseas.
Yurika Iwano spending time picking strawberries with her children
Iwano: As an engineer, I have always prioritized our passengers' safety and comfort. However, I've never had a chance to communicate directly with them. I would love to work directly with customers or create something they get to experience firsthand.
Imada: I was thinking about the same thing from the opposite end. Although you are constantly working with passengers' safety and comfort in mind you do not get to hear their voices, their feedback. I am curious to learn what it is like not to be able to communicate directly with customers. For that reason, I would love to work in Maintenance.