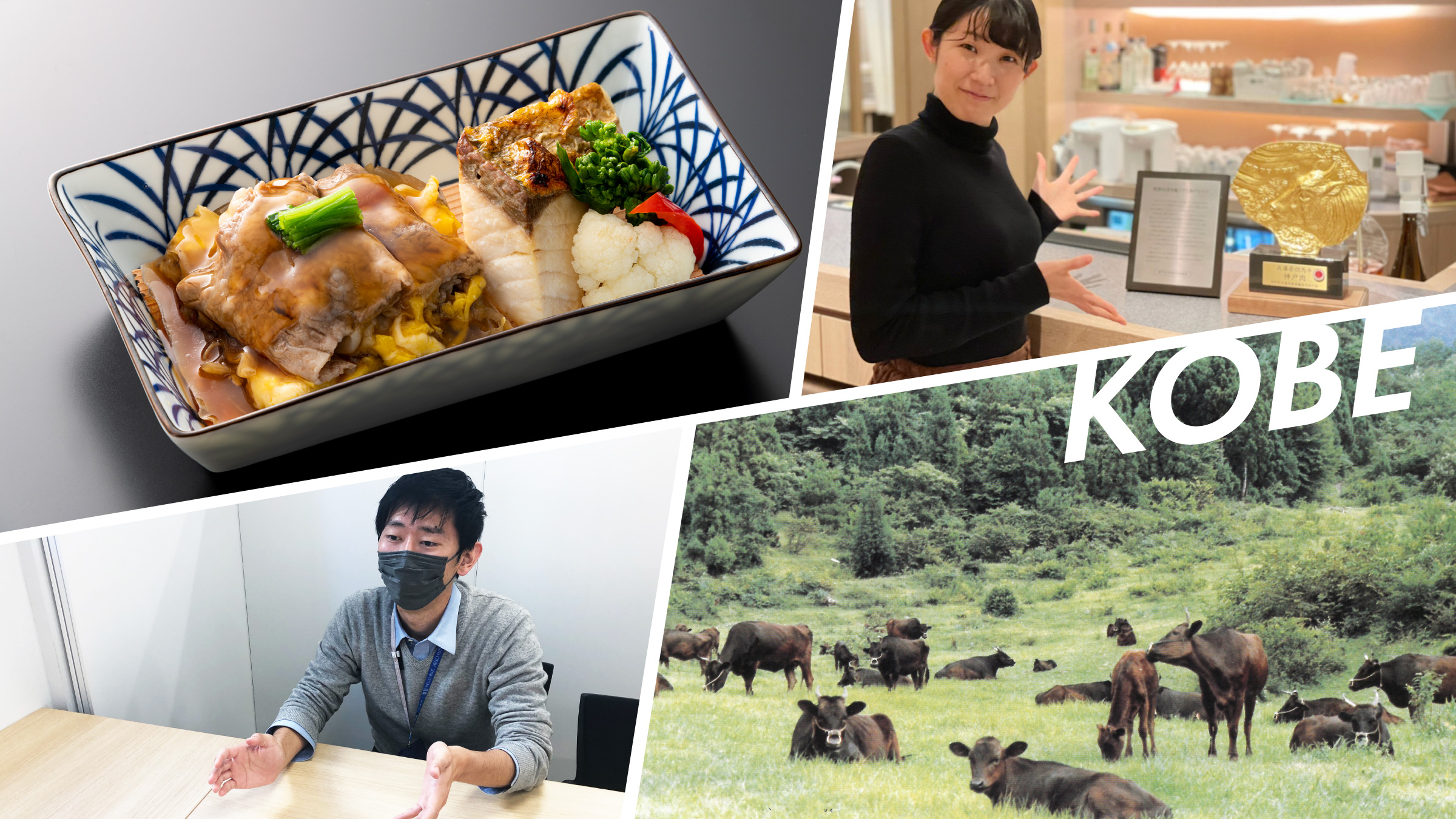 ANA Group Promotes Kobe Beef
for Overseas Consumers ANA Akindo supports producers of
locally grown commodities and is committed to using
its resources to raising awareness of their products outside Japan.
What motivates us to travel? For some, the opportunity to experience food in a different location is one of the main factors in selecting a destination. Inquiring travelers seek out cuisine that excites us, makes us curious and what leaves us wanting more.
As a Japanese airline group, ANA is proud to serve Japanese cuisine and promote locally produced ingredients that enhance each dish.
Kobe Beef is perhaps the best known of these specialized Japanese culinary products, a truly unique food that has captivated the palates of foodies all over the world.
However, what is not widely known outside of Japan is the stringent criteria necessary to be recognized as authentic Kobe Beef.
In this second installation of "A New Chapter of Flight 2" series, we dig into the delicious ANA campaign promoting Kobe Beef to our US and European consumers. To help you learn more about why our airline group is so passionate about this effort, we spoke with Satomi Nakaura and Sachika Douchi from the ANA Akindo Osaka team and Shogo Ohashi of ANA Akindo Regional Revitalization Department to discover their thoughts on why Japan's locally grown commodities are so important.
Q: Why do you think that promoting local Japanese food is an effective way to enhance ANA Group's businesses?
ANA Akindo Regional Revitalization Department team member Shogo Ohashi
Ohashi: Japan's population is rapidly aging, so for Japanese food producers to continue thriving, they will need to expand their businesses outside Japan, and Kobe Beef ranchers are no exception. As Kobe Beef can only be produced in a specific region, it is not possible to move production. If Kobe Beef to expand their market outside Japan, they will need to develop a strategy to raise global awareness and increase exports. Naturally, to export, producers rely on airplanes or ships to transport the product to foreign markets – that's where we come in.
Nakaura: For ANA Akindo, the revitalization of the local economy is our main mission. Those in Japan involved in the meat industry are physically tied to their lands, with many of them having lived in the community for generations. The more we communicate with these communities, the more we recognize these groups for what they truly are, artisans who take great pride in their work. As Japan's population ages and decreases in number, industries also deteriorate, and Kobe Beef growers are a good example of this. When non-Kobe Beef branded products are sold and consumed as authentic Kobe Beef, it hurts the industry deeply.
As an airline with an extensive international cargo and passenger network with global resources, we are proud to support our local communities and promote authentic Kobe Beef. This will allow the ANA group to protect the local economy while assisting in the development of new sales opportunities overseas.
Q: Why Kobe Beef? Tell us how and why ANA Akindo got involved in promoting premium Japanese beef.
Douchi: We found out that the Wagyu Master Export Expansion Consortium was looking for a partner to help promote Kobe Beef. Our ultimate goal is to support higher exports of the luxury meat and, as the first step towards that goal, we wanted to help raise brand recognition for real Kobe Beef.
Q: What makes Kobe beef the "Kobe Beef"?
Tajima black cattle enjoying a pasture in Hyogo Prefecture
Douchi: There are strict qualification standards that must be met to receive the official branding, but that is not a well-known fact outside Japan. ANA's online "Japan Travel Planner" platform explains what defines Kobe Beef. First, Kobe Beef can only come from a purebred Tajima black cattle, which have 1,200 years of history in Hyogo Prefecture. Second, the cattle have to be heifers or steers between 28 to 60 months old and processed at designated meat centers in Hyogo. The carcasses must weigh 499.99kg or less; and finally, the meat yield grade has to be A or B, quality grade 4 (out of 5) or higher, and the beef marbling standard (BMS) 6 (out of 12) or higher.
Due to the perfect balance of lean meat and fat marbling, Kobe Beef is often described as "it melts in the mouth." Rich in umami components, even its fat is said to be flavorful and delicious.
Q: Tell us about the ongoing promotion.
Kobe Beef dish for business class passengers
Douchi: The first part of the promotion ended last December when we offered a Business class in-flight dish using Kobe Beef. We received overwhelmingly positive feedback from our passengers, with many saying, "it was the best main dish ever!" and "it was a great combination of delicious Kobe Beef and the thick egg sauce. It was so satisfying!" Some were even surprised at how tender the beef was. Along with the menu, we provided a special brochure explaining what constitutes the Kobe Beef.
The second half of the promotion consists of a Kobe Beef feature page on the Japan Travel Planner and a collaboration with a YouTube influencer in New York. We asked influencer TJ Lee to dine at one of the three restaurants in New York that serves Kobe Beef and create a video from her experience. She did a great job showcasing the bronze statue that only a Designated Registration Store can display and describing how tasty the meat was.
Q: How do you think the promotion is going?
Douchi: We hope to capture people's interest in Kobe Beef. As you know, international leisure travelers cannot visit Japan now due to COVID-19 travel restrictions. While we await the day that restrictions are lifted, we want to get people curious about Japan and thinking about visiting.
On the Japan Travel Planner, we also promote the City of Kobe as a tourist destination.
Q: How has the pandemic affected your project?
Douchi: In preparation for the Kobe Beef promotion, we were most concerned with public sentiment. Late last year, we began hearing about the Omicron variant impacting the US and Europe. We asked ourselves, "Is it OK to distribute a promotional video?", "Is it appropriate to advertise the Japan Travel Planner content when people are not encouraged to travel?" We thought about whether to cancel or drastically change the tone of the promotion. That was the most challenging part.
Ohashi: We could not plan any offline promotional events; however, we were able to shift our focus by increasing people's interest in and curiosity for Kobe Beef.
Q: Are there any other food items you are considering for subsequent promotional opportunities?
Ohashi: The Ministry of Agriculture, Forestry and Fisheries list 110 locally produced food commodities, including Kobe Beef, that can be promoted. We have a long list of potential businesses from this list that we could select to partner with on similar promotions targeting overseas consumers. For instance, we are looking into Yubari King cantaloupes from Hokkaido, Japanese cherries, La France pears and Yonezawa Beef from Yamagata. The fruits are delicious and can be processed into many different products like juice or jam. I think they can be exported easily and will be well-received in overseas markets.
Sachika Douchi posing with the Kobe Beef Designated Registration bronze statue
Douchi: My focus is on supporting the communities and organizations I have been assigned, like Hyogo. I am currently working with the City of Tamba-Sasayama located in eastern Hyogo, which offers a fantastic selection of autumn harvests, such as black soybeans, chestnuts and Matsutake mushrooms. In October and November, they typically have a lot of visitors for edamame harvesting and along with the historical castle ruins in the area, I believe the city has potential to attract more international visitors.
Q: Why is it important for ANA Akindo to get involved in the revitalization of local economies?
Douchi: We hear many ideas from local communities. It is inspiring for me to be part of the effort to combine their needs and ANA's resources to create positive outcomes. It is exciting, and in the future I want to visit our overseas offices and get local feedback on how well the Japanese commodities can be received in those markets.
Ohashi: ANA Group has been involved in the revitalization of local economies for a decade, and it has always been connected back to our business as an airline. We want more people to fly ANA so that we can enhance our service and network. Although this cycle has been altered due to COVID, we can still support revitalization by assisting export or workation (work + vacation) business opportunities generated from Japan communities.
Nakaura: Whether it be nature or food, there are so many unknown charms in Japan, but local communities lack the means and resources to communicate to global consumers. That's where ANA Group and Akindo can contribute. We can potentially help these communities by bringing more visitors to Japan, and that is what makes our job fun and rewarding.