Meet Semi-Finalists behind
the ANA Avatar XPRIZEThe global competition will bring humanity
a step closer to telepresence for all.
Imagine a world where people are able to meet and interact with others, visit and learn about a new location or undertake a new activity in a different country without ever leaving the comfort of their homes. Imagine the impact of empowering surgeons to remotely operate on patients who live on the other side of the Earth.
This week, 37 teams from 15 countries competed in the ANA Avatar XPRIZE Semifinals Testing in Miami, Florida. The teams who move on to the next level will compete in the Finals Testing next year and take a big step towards advancing the telepresence technology through avatar robotics.
We spoke with three of the semifinalists from the US, Germany and Japan to learn more about their innovative avatar projects and their ambitious goals for the technology.
What is the ANA Avatar XPRIZE?
Based in Los Angeles, California, XPRIZE is a non-profit organization that designs and hosts global competitions to encourage breakthrough developments across several sectors to create a better world for humanity. The organization was founded by engineer, physician and entrepreneur Peter Diamandis in 1994, and ANA became a partner in 2016. The XPRIZE Foundation's first competition, the Ansari XPRIZE, awarded $10 million to the team that succeeded in building and flying a 3-passenger spacecraft 100 kilometers into space twice within a two-week period.
Through this partnership, ANA was given an opportunity to participate in XPRIZE's 2016 Visioneering Summit. At that event, ANA was represented by Kevin Kajitani and Akira Fukabori, co-founders of avatarin to discuss next prize concepts.
"The goal of the ANA team was to find a scalable solution to democratize travel so that the world would be able to better share human resources that are typically siloed in specific geographic areas," recalled Kajitani.
The idea eventually became the underlying challenge of the ANA Avatar XPRIZE, which is to create an avatar technology that can transport human presence to a remote location in real time. Sponsored by ANA, the competition was launched by XPRIZE in 2018 with a total of $10 million in prize money to be awarded to the winning technology.
With their avatar robots, the semifinalists have demonstrated the ability to execute various real-world tasks, such as shaking hands, giving hugs, playing board games as well as picking up objects and more.
"We are excited to see how each team combines necessary exponential technologies to create their avatar robot systems. We believe each and every team is driving this cutting-edge technology forward and paving the path to a more connected and abundant future," Kajitani said.
Meet three semifinalists
Avatar-Hubo from Las Vegas, Nevada (US)
Avatar-Hubo from Las Vegas, Nevada
Photo by Avatar-Hubo
"Our avatar technology attempts to truly allow the operator to fully embody a robot for the first time. The immersion is enhanced through a state-of-the-art haptic suit that allows the operator to sense and feel the environment like never before," said lead engineer, Jean Chagas Vaz.
"For instance, if an individual touches the robot's shoulder, the operator will feel it. Moreover, our engineers have created a seamless real-time interaction vision system which provides the operator with a unique immersion experience."
Chagas Vaz said his vision behind Avatar-Hubo is true telepresence that enables expertise workers, such as doctors and engineers to perform their tasks without traveling. He also highlighted the robot's potential in the entertainment industry.
The lead engineer explained that his motivation to compete in the ANA Avatar XPRIZE ties back to his long-term research in increasing the capabilities of humanoid robots to create a beneficial societal impact.
"Evidently autonomous robots are quite precise and efficient, however the expertise instincts of a firefighter can never be programmed into machines," he said. "Hence, the ANA Avatar XPRIZE allows me to consider a scenario whereby adding human intuition the robot can now perform tasks and solve problems in a way that only humans could."
Roboy from Munich, Germany
Rafael Hostettler and his team are the creators of the musculoskeletal (musculature and skeleton) humanoid avatar "Roboy 3.0," and believes that his robot can be utilized to care for millions of soon-to-retire baby boomers.
"(There are) nowhere close to enough caregivers," he said. "We believe that by harnessing the ability of caregivers to teleport between avatars, as well as giving loved ones the opportunity to take control of them, we can make a crucial difference and create a way for that generation to age in dignity, instead of solitude."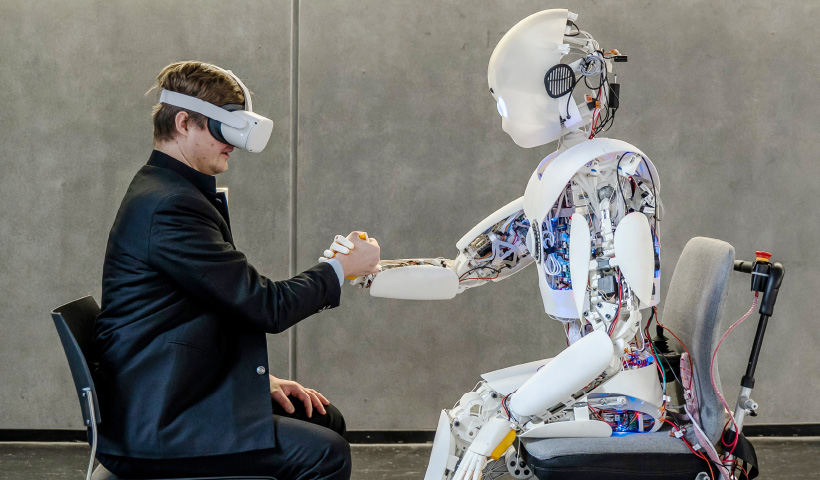 Roboy from Munich, Germany
Photo by Devanthro GmbH/Johanna Weber
Hostettler's vision is to build humanoid robotic avatars that are just as agile, dexterous and dynamic as the human body but without its fragility. "We're trying to imitate the human body and how it works on the level of muscles and tendons. Why? Because a human body is still arguably the most capable 'robot'", he said.
According to Hostettler, Roboy's "human-like" physical presence and compliant nature would be perfect for elder care.
"If the ongoing pandemic has shown us one thing, it's the value of being present and the human touch, like handshakes, hugs as well as the importance of existing in the same space as other human beings without feeling separated," said Hostettler.
Remote presence specialist Chris Christophers said the ANA Avatar XPRIZE competition presented "A perfect opportunity to make a new challenge and progress our concept to another level."
X:Presence from Kobe, Japan
Photo by X:Presence
Consisting of a number of tech organizations, X:Presence (pronounced as "cross presence") is a pioneer in the Japanese telepresence/robotics industry.
"There are different forms of avatar robots," Christophers said. "Some are humanoid types specializing in doing detailed handwork from a remote location. Our concept is to create a telepresence experience through interaction with the avatar."
X:Presence's avatar robot is made of soft materials. It's safe and non-threatening for people to be around and is meant to be touched.
"The range of services these types of avatar robots will be able to provide in the future is infinite, especially with the pandemic, when people cannot go outside the house and are looking for new ways to communicate and experience the outside world," he said.
What does the XPRIZE competition mean to ANA?
Through the competition, ANA is showing the world that we not only acknowledge how avatar robots can help humans share skills and resources but can actively support the development of the technology.
Furthermore, it is ANA's mission to connect people and create interactions, even when it is challenging to do so, such as during these unique pandemic times.
"One thing that is unique about this competition is its focus on human-robot interaction," said Kajitani. "Avatar robots are extensions of humans so it's important that people interacting with these systems are able to sense the operator's presence and interact with them in a natural way."
The winners of the Semifinal Testing will be announced in October 2021.
For more information, visit the ANA Avatar XPRIZE web site to find out more about the global competition and the 37 semifinalists.