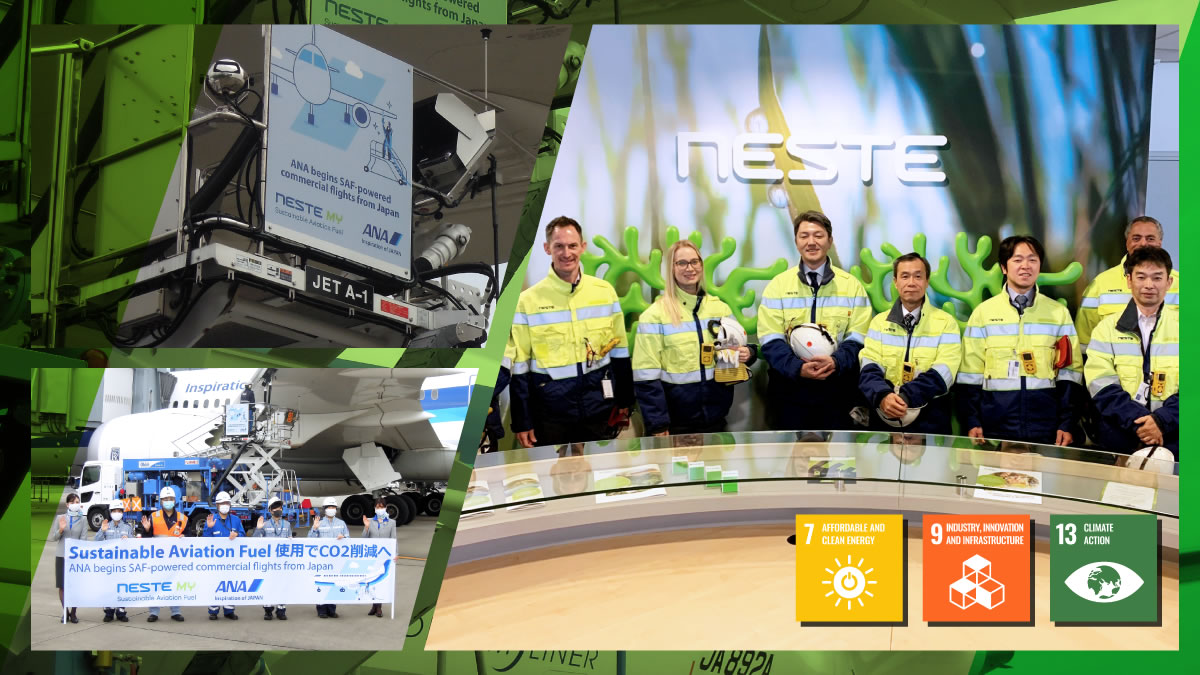 The Benefits of ANA's Commitment to Cleaner Fuel
The airline embraces sustainable aviation fuels (SAF)
to further advance its sustainability goals
As the world struggles to overcome a global pandemic, the existential threat of global warming remains. In response to climate change, environmental preservation through new technology and policies is being embraced throughout the world.
Over the last few years, consumer sentiment toward making more responsible purchasing decisions has shifted dramatically. In the US, UK, Australia, China and India, a recent survey by Skift found that Millennials and Gen Z travelers prioritize sustainability when choosing which airlines to fly and in which hotels to stay, going as far as paying more for greener options.
Why SAF?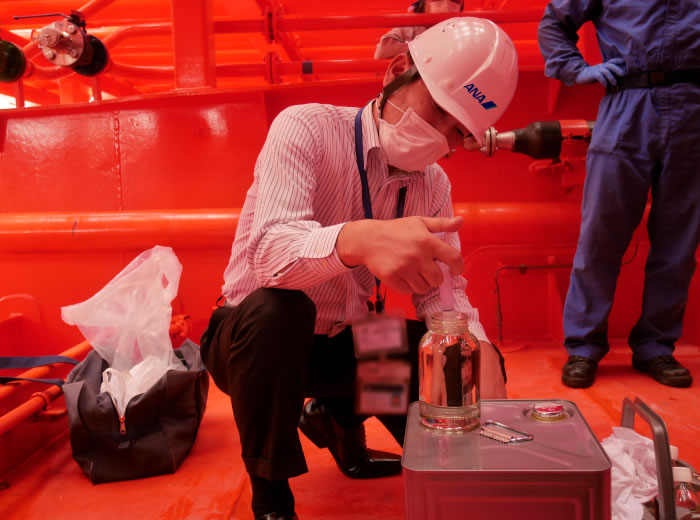 Tamon Oishi performing a quality check of the SAF.
For airlines, one of the most effective and efficient ways to reduce carbon emissions is adopting cleaner fuel. The ANA Group first used SAF in 2012 on a Boeing 787-8 that was flown to Tokyo from Boeing's factory in Washington state. It was the world's first SAF flight across the Pacific Ocean.
"Our goal is to not only use SAF, but to identify the best way to offset our carbon emissions," said Kohei Yoshikawa, of ANA Procurement, Fuel & Energy. "Compared to other methods, using SAF happens to have the most potential to help us achieve our sustainability goals."
By itself, SAF can reduce up to 90% of carbon emissions.
The importance of SAF as an energy source for aircraft is abundantly clear, but there are challenges that come with transitioning to SAF. For one, SAF can only be used when mixed with equal or greater amounts of fossil-based jet fuel. The goal is to eliminate fossil-based jet fuel altogether.
Last November, Rolls Royce, which manufactures engines on some ANA aircraft, revealed a plan to use 100% SAF in engine ground tests. Boeing, which built ANA's fleet of fuel-efficient 787s recently announced its commitment to produce aircraft that can fly with 100% SAF.
SAF Production and Sourcing Arrangements
Another challenge to the transition is SAF production technology on a commercially viable scale is still developing. There are only a handful of manufacturers in the world that can produce and sell SAF in the large volumes needed by the aviation industry. With no domestic manufacturers available in Japan, the ANA Group has been cultivating a global supply chain for the past decade.
In 2016, ANA established its SAF project team. Comprising members from Corporate Planning, Procurement and Quality Assurance, the SAF project team is tasked with exploring the most cost-effective approaches to offsetting carbon emissions.
The team's efforts include researching SAF procurement opportunities, traveling around the world and negotiating terms with SAF manufacturers. Developing partnerships and a reputation as a smart airline that knows how to best use SAF is the key to building trust with manufacturers in an overwhelmingly seller-dominant market.
In the past, such tasks fall solely on Procurement's shoulders. With the SAF project team, ANA is able to present a balanced, multi-dimensional approach to sellers.
"We are constantly on the lookout for high-quality SAF that can be mass-produced and has a potential to be distributed with favorable pricing," said Hiroaki Sugimori, of Corporate Planning.
ANA SAF project team with Neste partners.
* The photo was taken prior to the COVID-19 pandemic.
In 2019, ANA signed an agreement to begin purchasing SAF from LanzaTech, Inc., an American biotech startup and leader in gas fermentation technology. ANA signed in 2020 a long-term SAF procurement agreement with Neste, the world's largest producer of renewable jet fuel and third on Global 100's list of the world's most sustainable companies. The SAF from Neste is made from sustainably sourced renewable waste and residue materials.
Once Neste agreed to sell a large quantity of SAF, the team needed to figure out how to transport and distribute it to Haneda and Narita airports, as they did not have the capacity to berth a 50,000-ton chemical tanker. The team developed the infrastructure to dock the tanker in Hiroshima and divide the SAF into smaller tankers which transported it to the hub airports.
"In principle, airlines do not need to get involved in detailed logistics of supply chains," said Tamon Oishi, of Quality Assurance, Engineering & Maintenance Department. "However, we wanted to be able to reassure our passengers that we were committed to reducing carbon emissions with the use of SAF, and it was a valuable experience for the ANA Group."
After going through numerous tests to reassure safety and quality, particularly on things like flammability, density, freezing/flash point, and electrical conductivity, ANA began operating SAF-fueled commercial flights on Nov. 6, 2020. While ANA became the first airline to use SAF on flights departing from Japan, the occasion marked a first for Neste in supplying fuel to Asia.
Supporting a Long-Term Vision
The decision to invest in SAF had to be looked at from a greater perspective than simply costs. While investing in SAF is a costly choice, particularly amid the financial adversity brought on by COVID-19, it's a logical decision as ANA remains committed to its sustainability goals.
"If you invest in lighter and higher fuel-efficient aircraft, you would be able to boost the engine performance by cleaning it more frequently and thoroughly. ANA does that," Oishi said. "However, we wanted to diversify our ways to reduce carbon emissions to fulfill our obligation for next generations at maximum capacity."
While the SAF Project team is building up ANA's credibility in the global market as a SAF-operating airline, the long-term vision of ANA Group is to support and pursue SAF manufacturing in Japan.
The ANA team commemorating the first SAF-powered commercial flight.
"It is not a matter of preference. As an airline with our two main hubs in Japan where 70% of fueling takes place, it only makes sense for us to secure a domestic source," said Yoshikawa. "In the interim, we are focusing on creating the infrastructure for fueling with SAF and promoting the fuel in Japan."
Japanese consumer sentiments over environmental impacts, including SAF, need to be altered, too, said Noriaki Muranushi, of Procurement.
"In Europe, consumers are aware that it costs money to make eco-friendly choices. In Japan, people think the environment is free, and something we do not have to pay to maintain," he said. "We need to communicate the benefits and grow with our customers."
Yoshikawa assures customers that using SAF is another way for the ANA Group to provide a sense of safety and trustworthiness. "Japanese consumers will eventually start choosing airlines based on how we behave. When the time comes, I believe, we will be ready to say, 'We are conscious of our carbon footprint; we fuel our aircraft with SAF. We are safe; we are trustworthy."