A New Chapter of Flight:
In Conversation with Hiroshi Shibata,
Honolulu General Manager at ANA
Hawaii's Pre-Travel Testing Program (PTTP) has opened up the state to visitors by allowing people to enter without having to self-quarantine if they receive a negative COVID test before their flight. Before the PTTP launch, anyone traveling to Hawaii from out-of-state was subject to a mandatory 14-day self-quarantine. Hawaii is serving as a testing ground for international travel, and ANA, as one of the first airlines to reopen international routes to the state, is excited to contribute to the success of the new program. Our ANA Care Promise initiatives have played a huge role in our resumption of flights, and we can't wait to welcome our passengers on board. ANA brings a balanced approach to travel which will take the public's health and safety as well as the revival of the local economy into consideration.
To learn more, we spoke with Hiroshi Shibata, Honolulu General Manager at ANA, who shares his insight into the reopening of the Honolulu=Tokyo Haneda route.
Waikiki Beach in August 2020.
Q: What impact has COVID had on the Honolulu tourism?
A: Last year, we introduced the A380 FLYING HONU and were able to bring many passengers to Hawaii from Japan. Traditionally, 90% of our passengers are Japanese tourists. You could feel the excitement, joy and warmth of generations of family members vacationing together as soon as you opened the cabin doors to our flights.
Prior to COVID, Honolulu had 100,000-150,000 Japanese tourists visiting every month. However, in March, Gov. Ige asked all visitors to refrain from coming to Hawaii, and he implemented curfews and 14-day self-quarantines. This led us to suspend all of our flights in April, causing the number of Japanese visitors to drop 99.9% compared to last year in a matter of days.
The suspension was shocking news to us. At first, we thought the suspension would be over in a month or so. Then, we had no Japanese visitors coming during the Golden Week, a highly celebrated Japanese holiday in May.
Q: How has the PTTP impacted the HNL=HND route?
A: Starting in November, the PTTP became available to travelers from Japan. This is a big step toward reopening Hawaii tourism, and helped lead us to the decision to increase flights to twice a week starting December, up from two roundtrip flights a month in November.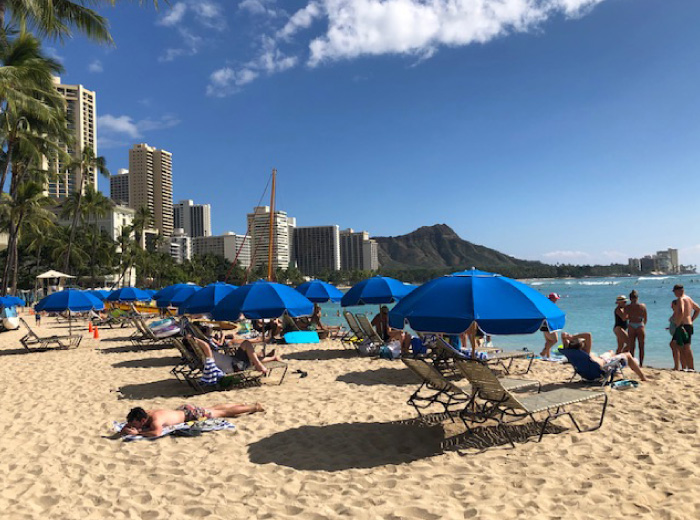 Waikiki Beach in December 2020.
From October to November, the number of reservations doubled. A similar growth pattern was shown for December as well. The impact of PTTP is big, and we are excited about the increased flight frequency starting December and what opportunities this opens up for our passengers.
Q: How does the PTTP work? What is the passenger experience like?
A: Upon arrival to Honolulu, passengers traveling internationally go through a thermal imaging camera at the entrance of the terminal. Then, they will go through Immigration and pick up their luggage, as usual. As the passengers exit the terminal through Customs, they must visit a secluded area for a health check. Passengers show a QR code given upon completion of the health form and show a formal certificate of their negative PCR test result. From my experience, the health check process is quick and efficient, getting passengers in and out within minutes.
The Hawaii Tourism Authority website explains the PTTP process thoroughly in Japanese. In addition to booking flights, accommodations and obtaining ESTA as they always did, visitors are now asked to submit the Travel & Health Form with the address of where they will be staying and their current health conditions. Then they must obtain proof of a negative PCR test result within 72 hours prior to the outbound flight to Hawaii. In Japan, there are currently 84 testing sites (as of December 24, 2020). ANA had the first flight under the PTTP on Nov. 6. Even though it was only a week from the implementation of the PTTP for Japanese passengers, more than 50% of our passengers were able to obtain proof of a negative test result in time. This speaks to program's level of interest and demand among Japanese visitors. Passengers who were unable to obtain proof of a negative test result were mostly Japanese residents from areas without easy access to testing sites or transit travelers from other Asian countries.
Q: Have you seen any areas that could be improved?
A: The feedback from Japanese passengers thus far has been positive. However, the PTTP experience for Japanese visitors can be improved by reducing fees and increasing access to testing site locations – for example offering testing in the suburbs. Also, digitalizing the process of the test results, as well as the proof itself, would increase the accessibility and improve the effectiveness of the program.
In Japan, only a limited number of testing sites are open on weekends. In order to fly on Monday, testing has to be done on Saturday, and that causes inconvenience to passengers.
Q: How is Honolulu preparing for a pending surge of domestic and international visitors?
A: The City of Honolulu is currently executing the Honolulu Reopening Strategy, loosening the activity restrictions for both residents and visitors gradually so that the local economy can be reopened.
Based on the latest 7-day average number of the newly infected and infection rate, Honolulu is now at a Tier 2 restriction (as of January 2021), Tier 4 being the most relaxed. In addition to mandatory mask wearing and social distancing, these restrictions prohibit social gathering of more than five people.
Waikiki Beach is no longer a ghost town, and people are gradually coming back to Kalakaua Avenue and the beaches. The City is determined to prevent the spread of the virus among residents and visitors and to create a safe pod, asking all individuals to follow the restrictions and guidelines.
ANA Honolulu General Manager Hiroshi Shibata.
Q: Tell us about your effort to maintain or expand business and cargo demand between Honolulu and Tokyo.
A: During the COVID-19 lockdown when we did not have any Japanese visitors, we needed to cultivate new business demands in order to resume flights. We heard about the "at-home" e-commerce businesses that sell popular Hawaiian commodities such as Kona coffee, craft beer and Hawaiian sweets to those who miss Hawaii.
Through our search, we met a Japanese sake maker in Honolulu and were able to work together to deliver her sake through our cargo service. Air cargo is a perfect way to transport sake as it is fast and can handle small volumes.
Chiaki Takahashi founded United Sake in 2017 and started making sake at the Islander Sake Brewery in 2019. Islander Sake is made of Hawaii's clean water and Japanese rice in a traditional sake brewery (saka gura) with fresh flavors such as guava and pineapple. Although it is more expensive than table wine, it is widely popular among local residents of Honolulu.
I believe this type of e-commerce business will continue to expand and support diversifying Hawaii's economy. It is a win-win for both local small businesses, airlines like ANA and Japanese passengers missing a taste of Hawaii.
Q: Do you have any final messages you wish to share?
A: Thanks to the PTTP, we were able to lay the foundation for Japanese visitors to enjoy Hawaii and its beauty; however, the full recovery of Hawaiian tourism will take more time. What we're still missing is reciprocation from Japan. Since the Japanese government restricts the entry of American citizens to Japan, Americans cannot go to Japan for the time being. I believe the next step should be to invite the people of Hawaii to Japan – and to do this we have to show that PTTP works.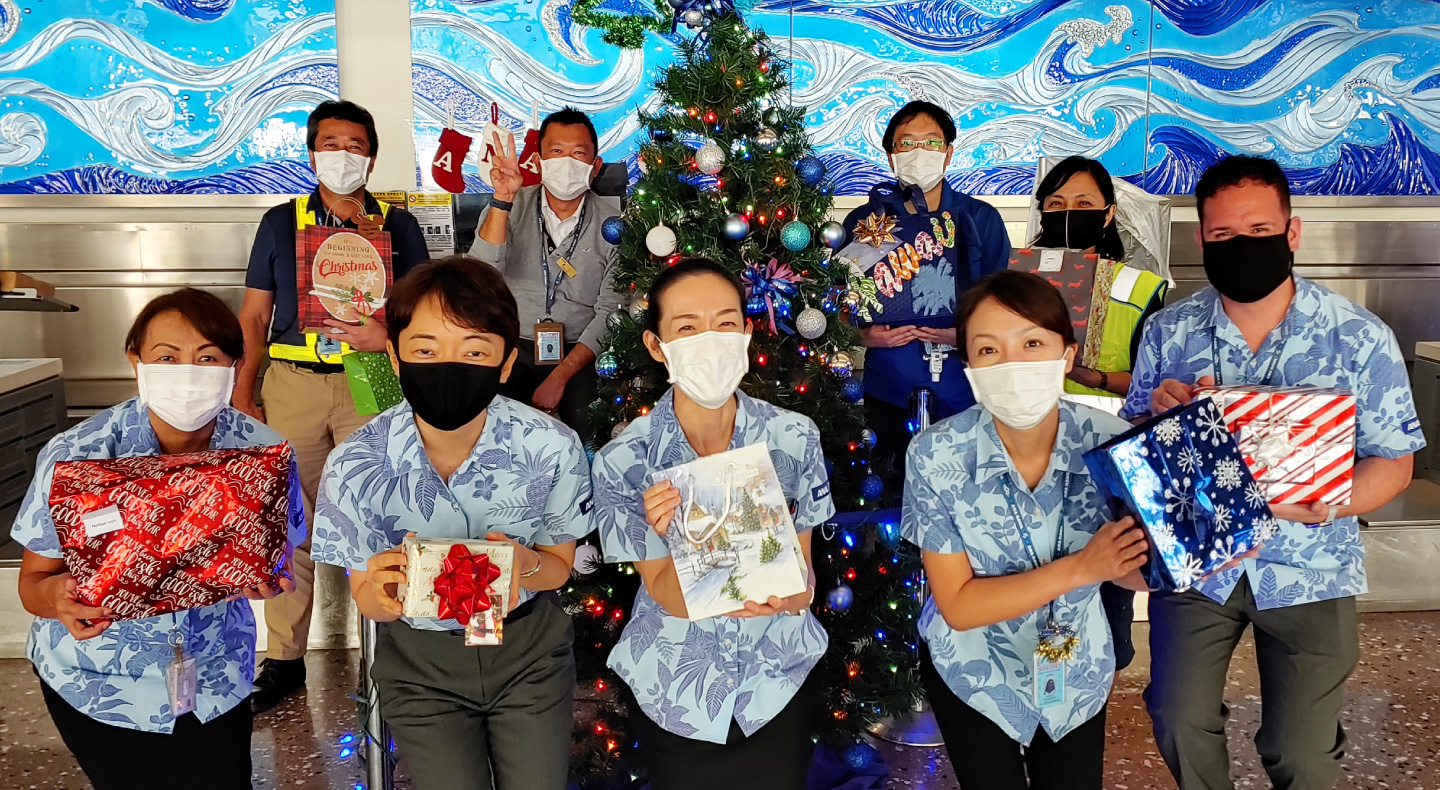 The ANA Honolulu team celebrating the holidays.
We are very thankful for the welcome-back message from Gov. Ige. I believe minimizing the risk of infection and proving that Hawaii residents and visitors can coexist safely will lead to the FLYING HONU's return. ANA will always prioritize the safety our passengers, and we can't wait to serve you again.
* The interview was conducted in November 2020.
As travel restrictions and requirements frequently change, please make sure to check the latest information in the link below prior to your travel.
https://www.ana.co.jp/en/jp/topics/notice200501/#immigration_hawaii