ANA Employees Donate Clothing
to the "Furugi de vaccine" Initiative,
Providing Vaccines to Children in Developing Countries
Since 2017, the ANA Group's international logistics and delivery arm Overseas Courier Service Co., Ltd. (OCS) has donated used clothing to the people of Laos as part of its CSR activities. Though the program was successful, strict importing standards imposed by the government of Laos in response to COVID-19 forced us to cancel OCS' donation program in 2020.
Undetered, the team at OCS contemplated its next steps and found a way to contribute in an equally meaningful way. "At first I thought we would have to cancel our charitable activites for this year," said OCS Associate Advisor of General Affairs and Human Resources Kazumasa Hayashi, who has been in charge of the company's CSR activities since 2017.
While considering how best to proceed, OCS President and CEO Tetsuo Fukuda stated that, "Continuing our CSR activities is more important than anything else." The team felt empowered because while they were forced to cancel one initiative they knew that they would find another way to contribute.
Is there any other way to support those in need?
As OCS looked for new ways to continue its charitable work, Hayashi remembered meeting Yuko Konno of Japan Reuse System. In addition to assisting OCS with its CSR activities, she has played a leading role in promoting the "Furugi de vaccine" program by the Japan Committee of Vaccines for the World's Children (JCV) .
After speaking with Konno, it became apparent to Hayashi that the "Furugi de vaccine" program was an excellent opportunity for OCS to contribute to the economy and public health efforts in developing countries. Though it was no longer possible to send clothing directly to Laos, the "Furugi de vaccine" opened up new opportunities in other Southeast Asia countries such as Myanmar, Cambodia, etc., Hayashi also approached other ANA Group companies like ANA Cargo to help with the project.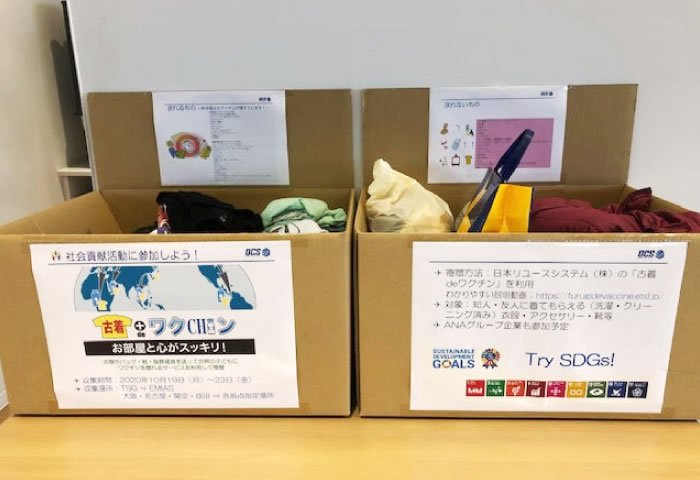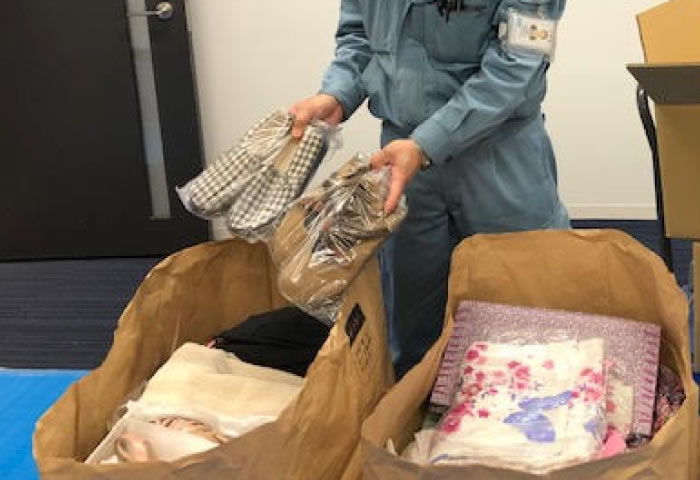 Donation boxes placed at the collection sites
Clothes as well as other items like bags and shoes were donated.
What is the "Furugi de vaccine"?
The program collects used clothes which are then shipped to people in developing countries. In addition, five polio vaccines are donated for each bag of clothes collected.
・Vaccines will be given to children in developing countries.
・The clothes sent are distributed by vendors in developing countries, helping to create local jobs.
In addition, the sealed and shipped special collection kits are used at welfare work sites, creating jobs for the disabled.
For more information on "Furugi de vaccine," please visit the link below:
(Japanese only)
https://furugidevaccine.etsl.jp/about/
This year, the ANA Group placed collection boxes at nine locations. In total, ANA Group employees donated approximately 30 bags worth of clothing to the "Furugi de vaccine" initiative!
These collection bags can hold up to 25 kilograms of items – roughly 100 t-shirts.
Yoko Yamashita, Manager of General Adminstration Department at International Cargo Service Co., Ltd., who participated in the initiative said, "Not only do I feel like I have more space now that I've cleaned out my closet, but I am proud to know that I have helped someone and delivered a little piece of joy by sending my clothes to those who need them."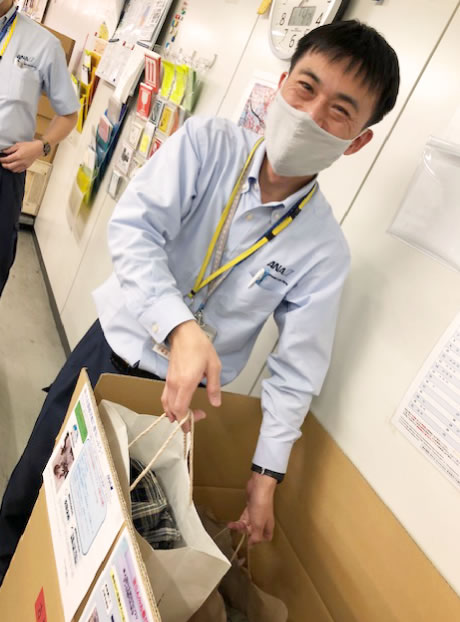 Clothes delivered from Japan are especially popular due to their quality and durability.
It's important to keep trying.
Hayashi's motto for CSR initiatives is "NO CHALLENGE, NO FUTURE.", which means without overcoming challenges and finding solutions, there is no future. He hopes to expand ANA's charitable contributions during 2021. In addition to the successful clothing drive, Hayashi got the ideas to conduct the donation of used postage stamps and disposable contact lens cases through participating in seminars and exhibits.
Kazumasa Hayashi of OCS
The ANA Group will continue working on worldwide causes and is committed to expanding activities that contribute to a higher standard of life across the globe.
・OCS' CSR Activities (Japanese only)
https://www.ocs.co.jp/aboutocs/csr.html
・Activities in developing countries