A New Chapter of Flight:
In Conversation with Yuzuru Nagawa,
Houston General Manager at ANA
This year, the world has seen countless closures of businesses, travel routes, schools and many other familiar entities. That's why ANA is so excited to share the partial resumption, 3 days a week, of the Houston to Haneda (IAH=HND) route using the Boeing 787-9 aircraft. With this resumption, ANA aims to support local Houston businesses and communities, helping to revitalize the economy and reunite our passengers with their loved ones. Our ANA Care Promise initiatives have played a huge role in our resumption of flights, and we can't wait to welcome our passengers on board again.
---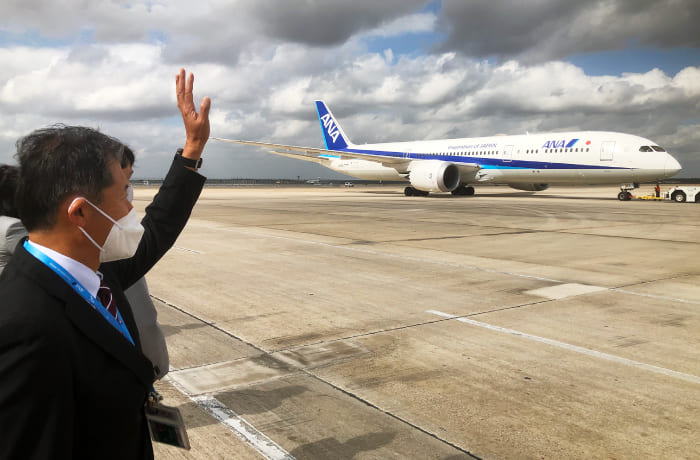 ANA Houston General Manager Yuzuru Nagawa waves to an ANA aircraft.
In the interview below, Yuzuru Nagawa, Houston General Manager at ANA, provides some background information on ANA's service in Houston and shares his insights on ANA's decision to switch the IAH=HND operating aircraft from the B777 to the B787-9 and how that change came about. He also shares his thoughts on the airline industry and how it has played a part in the Houston economy.
Q: How did the Houston=Tokyo service begin?
A: The daily route launched in June 2015 with the B777-300ER. Known as "the energy capitol of the world", Houston has the 4th largest economy in the nation, and one of the largest trading ports in the U.S.
Back in 2015, the travel demand in Houston was for passenger travel, with the vast majority for business (70%), and cargo. The Houston airports also serve as large transportation hubs for those travelers who are flying through Houston to other cities in Texas, southern states and South America.
The Japanese community in Houston is relatively small with about 4,000 people. However, the population is growing steadily, with almost 110 prominent Japanese energy, manufacturing and trading companies building a presence mainly in Houston.
Celebratory water cannon salute for an arriving ANA aircraft on October 1, 2020.
Q: Can you explain what's happened in Houston since the lockdown began in March?
A: It's been a challenging time for everyone – to be sure. In terms of ANA's routes, at the end of March, as part of the Haneda airport expansion, ANA launched IAH=HND with the B777-300ER. However, these flights only operated 3 days before being suspended due to COVID-19.
We kept thinking we would return to normal soon and everything was temporary. I had hoped that we would be back in operation by Golden Week in May. Every month, we kept preparing to resume service.
We changed our standard business to focus on no passenger, cargo flights to Haneda airport 3 times a week for about a month in the summer. Through ground transportation, we carried goods such as IT items, computer parts and automobile parts to Chicago, ANA's cargo hub. From Japan and China, we transported medical supplies, including masks, to Houston and other cities in Texas to contribute to the fight against COVID-19.
Additionally, we made some changes to help with our business model – including realizing that using the B777 was difficult with the rising cost of jet fuel and shrinking passenger demand. We soon had to stop operating even no passenger, cargo flights to Japan. In order to maintain our customer relationships, we did continue to transport cargo goods to Chicago, which were then to be shipped to Asia.
Q: When did you start to feel things shifting?
A: It really began when customers began asking when we planned to resume our flights. We shared those requests with Tokyo and hoped that the flights would return quickly. In July, we started to prepare for the resumption with the more fuel-efficient B787, which is suitable for mid-size markets. Usually, it takes about three months to switch the type of operating aircraft because of the necessary certifications from aviation authorities, but we did it in about a month. While the details were not official yet, I began to prepare our staff, as well as the United Airlines support team, and start various trainings so that we would be ready to fly when the time came. We had a lot of help from other B787-operating ANA gateways in the US to support us with the preparation of the flights.
ANA Houston team.
On top of the route resumption, we also needed to be trained for the new ANA Care Promise (ACP) handling and procedures, immigration/quarantine rules and restrictions for various countries, including Japan, and other COVID-related safety precautions.
After we announced the resumed service, we received positive responses from customers. They expressed that they had been waiting and were so glad that we were back. Our next step was to promote the safety inside the aircraft cabin, as well as at the airport.
Q: What was it like when the IAH=HND route resumed in October?
A: I was so happy on the morning of the first flight landed Houston on October 1. The B787 arrival was in the morning while the sun was rising, and IAH Airport did a water salute to the arriving aircraft. It was an emotional experience. On behalf of the City of Houston, Houston Airports Aviation Director Mario Diaz congratulated us on the new ANA Care Promise initiative.
It felt like we were holding the second inauguration of the Houston operation, and we gave a commemorative gift of an IAH=HND baggage tag and a pen to the passengers on the first two flights.
One side effect of suspending flights was that families were separated since many Japanese companies advised their expat employees to avoid taking non direct flights to bring their family with them. Now that our Houston flights have resumed, they are able to bring their children and pets along on their journeys to Houston. In October, we witnessed many families get reunited.
Since that first flight on October 1, both ANA and supporting United Airlines staff have been seeing off the flights from the ramp to express our gratitude to our passengers for flying and supporting ANA. We want to continue offering the same ANA hospitality to our customers particularly because we are all going through these unprecedented times.
Q: Do you have any final messages you wish to share?
A: I feel like we took traveling for granted before. Since the lockdown and worldwide suspension of flights, face-to-face encounters have become more precious and meaningful. In that sense, I believe airlines now provide more value because we connect people. We reunite families and friends and help them experience important milestones in life. We support infrastructure and global supply chains to get fundamental activities, such as the economy and medicine, going. 
My commitment to operating safe and comfortable direct flights has been renewed.