Learning More About HEPA Filters with Pall Aerospace
The COVID-19 global outbreak has certainly brought health and safety precautions, particularly those taken during air travel, to the top of everyone's minds. Now more than ever, we at ANA want our passengers to enjoy their flight and have a peace of mind during their travels. With safety and comfort in mind, we took a closer look at the air circulation system in the ANA aircraft cabins to provide our passengers with reassurance that we are providing the highest possible health and safety standards to all ANA travellers. To get even more insight on the filtration system, we spoke with Paul Roux, a senior principal engineer at Pall Aerospace.
---
Did you know that every 3 minutes the cabin air in all the aircraft operated by ANA Group is replaced? This process keeps us all breathing fresh air on the flight and the journey the air takes is nothing short of fascinating. The cabin air is filtered through a high-performance HEPA Filter (High-Efficiency Particulate Air Filter), before being supplied to the cabin. The air does not stay stagnant in the cabin, but instead flows constantly from the ceiling to the floor. This ventilation system is constantly working, including when the aircraft is on the ground.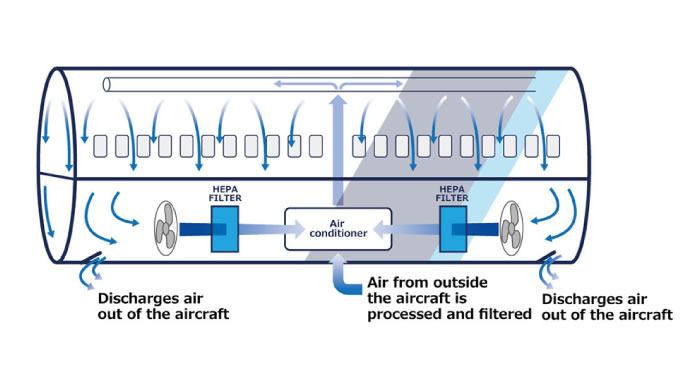 Full details on the ventilation system inside the plane can be found here:
https://www.ana.co.jp/group/en/about-us/air-circulation.html
Our passengers can breathe easy knowing that the HEPA filtration system installed on all ANA Group aircraft is the same system used for air conditioning equipment in hospital operating rooms. Additionally, by adding in in-flight facial coverings and masks, the risk of in-flight infection is extremely low, according to new research from the International Air Transport Association and the Harvard T.H. Chan School of Public Health.
We know that even with these safety precautions, some of our travelers may still feel a little uneasy about spending time on a plane. Sometimes it can help to have a solid understanding of what processes are and how they function to ease some of this anxiety. To give us more detail and background about the HEPA air filtration, we spoke with Paul Roux, senior principal engineer in research and development at Pall Aerospace, the supplier of HEPA filters for ANA.
First, a little more information about Pall Aerospace. It is a global leader in advanced filtration, separation and refining that meets a wide range of needs, from life sciences to general industrial fields. The company works with its customers to improve technologies in consideration of health, safety and the environment. Since the 1940s, Pall Aerospace has also been conducting research and development to help improve the quality of air in ANA aircraft, specifically focusing on "cabin comfort."
Paul Roux
Pall Aerospace
Filtration systems aren't a new thing on aircraft. "Many of you may have forgotten that there used to be smoking seats in the aircraft cabins. At the time, it was very important to purify the air so that the smoke would not travel over to the non-smoking seats," said Paul Roux.
Paul joined Pall Aerospace as an aerospace engineer in 1989 and has been involved in almost every aspect of aerospace filtration over the past 30 years. He is also part of the team that developed the first cabin air filter (A320 and A330/340). Paul is in charge of research and development of recirculation filters including advanced cabin air filters (A-CAF). Recently, Pall Aerospace has been focused on developing technologies that improve cabin air quality.
Q: What are the mechanisms of a high-quality HEPA filter?
A: HEPA filters can be used to remove particles of various sizes in the cabin in three main ways: direct interception, inertial impact and diffusion interception. All of these methods are operated by fine air filters.
The direct intercept filter has a predefined matrix of holes. If the particle is larger than the pore size, the particle cannot penetrate the medium and is removed from the air stream by direct occlusion.
Inertial impact filters remove particles smaller than the pore size by inertial impact. The particles are denser than air, deviate from the airflow stream, and impinge on the surface of the pores formed by the fibers of the filter medium, where they adhere and are trapped. This mechanism removes particles in the range of about 0.3 microns to 10 microns, depending on the filtration rating of the filter medium.
For very small particles, the diffusion barrier mechanism is used. Brownian motion results in rapid random motion about the nominal orbit, which causes the particles to contact and collect on the fiber and pore walls of the filter medium. This mechanism is active for very small particles less than about 0.2 microns, in fact, the smaller the particle the greater the Brownian motion and the higher the capture efficiency.
https://www.pall.com/en/aerospace/commercial-fixed-wing/how-cabin-air-systems-work.html?_ga=2.114155079 . 1172934620 . 1604279998 -1130141138 1604279998
HEPA filters catch particles as small as 0.3 microns and filter out more than 99.97% of the impurities in the air. These filters have been regarded as important countermeasures against infectious disease outbreaks such as SARS. This filter is able to absorb droplets of COVID-19. In comparison, the "N 95" medical masks collect more than 95% of the 0.3 micron particles.
Q: How does clean air help restore trust?
A: Recently a panel discussion, attended by doctors and travel specialists, on "Risk of Viral Infection and Appropriate Safety Measures for Airborne Travel" discussed that very question. The panelists found that the cabin environment, including the use of HEPA filters, always provided clean air and that the risk of infection in the cabin was very low. Of course, measures such as wearing facial coverings and social distanced seating arrangements also help to mitigate risks. However, there were no reports of large-scale incidents on board an aircraft, and the importance of HEPA filter functions, air circulation in the cabin, and equipment was further confirmed.
The increased knowledge and understanding of HEPA filters has led to the growth of inquiries from others in the public transportation industry. Introducing HEPA filters to buses, trains and other means of transportation is a new challenge for Pall Aerospace, and this interest helps affirm our belief that air travel is safe. We want to deliver clean air and help restore the trust of traveling everywhere.
In the past, customers were mainly interested in eliminating odors and filtering particulate pollutants, but over the last 10 years, there has been growing interest in measures against infectious diseases such as SARS and the H1N1 influenza virus. With our previous focus on measures against infectious diseases, we were prepared and ready to face the current COVID-19 situation. We are proud to provide ANA with HEPA filters that protect the safety and health of its customers.
Many thanks to Paul for speaking with us and providing some additional insight into the HEPA filter system and its importance on our aircraft. The ANA Group is committed to creating clean and hygienic environments in airports, lounges and airplanes so that all passengers can travel safely. ANA is also ensuring that its airplanes are thoroughly ventilated so that all passengers can travel with peace of mind.
Please see here for ANA Care Promise.
https://www.ana.co.jp/en/jp/topics/coronavirus-travel-information/