ANA Group Sews Medical Gowns for
Front-line Workers (Part 1)
The spread of COVID-19 has stretched global supply chains, and demand has risen for medical gowns and other PPE materials. In early April, the Japanese government asked ANA Group for assistance in the sewing and inspection of nearly 50,000 medical gowns. ANA Group has been committed to safety, and as we are always looking for ways to give back, we were excited about the opportunity to put the passion of our employees to work helping to fight the pandemic.
---
At ANA, we have always looked for opportunities to connect people, and we felt that assisting in the assembly of medical gowns was an excellent way to get involved and contribute to social efforts. Despite our enthusiasm, we immediately ran into a problem as most volunteers had no experience sewing. Though eager to help, ANA Group employees were unsure that sewing gowns was the best way to fight the spread of the Coronavirus.
This led Kanako Murata of the ANA Planning Department who is in charge of planning the project to ask Valley LLC – the group overseeing the sewing initiative: "None of us have much experience with sewing machines, but is there something else we can do to help?"
However, she soon discovered that specialized sewing skills were not the only way to help; that it was really manpower that was needed. In addition to sewing, volunteers were able to contribute through their logistics expertise - coordinating the inspection and shipping of medical gowns.
More than 800 ANA Group volunteers from a wide range of occupations - from cabin attendants, mechanics, pilots to head office staff – helped in the production and delivery of the gowns. The high number of volunteers was nearly seven times the number required to complete the project, and Murata described the turnout as "A wonderful surprise."
Kanako Murata, ANA Planning Department
"At ANA Group we have always prioritized safety, which gave us key guidelines for manufacturing medical supplies. The ANA Group's principles for employees include encouraging social responsibility and helping those in need. The gown project provided an excellent opportunity for us to demonstrate the uniqueness of the ANA Group."
On May 12, a training session was held for volunteer staff leaders.
Instruction by Valley LLC company staff
Volunteers listening to the instructions
According to Valley LLC president Mr. Hideki Tani, while cases of COVID-19 are still low in Nara Prefecture medical gowns are still in short supply. This means that inventory is tight for local dentists, otolaryngologists, nursing homes, and other medical professionals. Tani fears that this could lead to the closure of medical facilities and create a critical situation where the elderly and other patients would not be able to receive necessary medical care and services.
Mr. Hideki Tani, president of Valley LLC
"I think that ANA stepping forward to help – even though they are from a different industry, created a process to make it easier for others to get involved and think that 'we can also participate'."
Mr. Hiroshi Ito of the D&I Promotion Department learned how to use a sewing machine during training and said, "I haven't touched a sewing machine in decades, but I managed to do it thanks to the thorough instructions. I am happy that I can contribute to the recovery."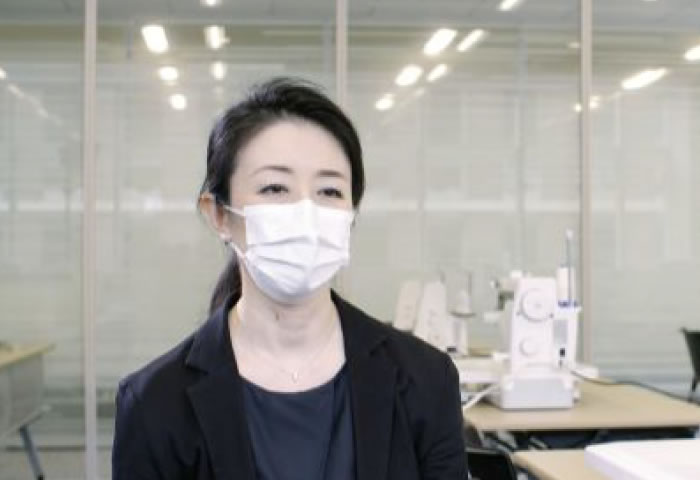 Ms. Michiko Terada of the Inflight Services Center added earnestly, "I wanted to make use of the sewing experience I had from raising two children. I realize now that the work involves constant double checking."
In Part 2, we will report from the worksite where the volunteers are assembling the gowns