Fly to Honolulu with FLYING HONUs
Fly to Honolulu with FLYING HONUs
Aloha, and welcome aboard the FLYING HONUs!
ANA is excited to welcome three Airbus A380's, the world's largest passenger aircraft, to our fleet. The FLYING HONUs will fly the Tokyo - Honolulu route starting spring 2019, and we are currently in the works of preparing to deliver all of the charms that Hawaii has to offer.
The concept of this resort route, symbolizes the numerous excitements that passengers are able to experience, including unique cabin features, promotions, as well as the grand opening of a new ANA lounge at Honolulu Airport.
The name FLYING HONU was derived from the beloved and sacred Hawaiian sea turtle known as "honu." They are known to bring happiness and prosperity to those who witness them, and we hope everyone who flies our FLYING HONUs are blessed with happiness. When ANA announced the livery motif earlier this year, the design that was introduced was colored blue, as an homage to the Hawaiian blue skies. In addition, two more colors were introduced this week: emerald green, inspired by the crystal clear waters of the Hawaiian seas, and orange as a reference to the beautiful island sunsets.
Each FLYING HONU is equipped with eight First Class seats, 56 Business Class seats, 73 Premium Economy seats, and 383 Economy Class seats, totaling 520 seats!
This is the first time ANA offers First Class on the Hawaiian resort route. The FLYING HONUs feature full flat seats and pair seating in Business Class, and in Economy Class it offers Japan's first couch seat called ANA COUCHii.
Each couch seat is comprised of three or four seats which allows customers to lie down on the seats by folding up the leg rests. They will also receive dedicated mattresses for greater comfort. This new seat concept will especially enable passengers travelling with smaller children to have a more relaxed experience in the cabin.
The cabin also features bar counters that are accessible to all customers, a multi-purpose room that can be used by new mothers to tend to their babies or by passengers who prefer to change before arrival.
The cabin interior has been strategically designed for customers to feel the Hawaiian spirit the moment they board the aircraft. The walls and lighting have been arranged to illustrate Hawaii's beautiful skies, sunrises, sunsets, and iconic rainbows!
Rainbow lighting
Sky and ocean lighting
Graphics of blue skies
(Economy Class)
Recently a new page was added to the ANA website called #hawaii24(*).
An adorable egg AI is there to assist customers 24/7!
Currently this page is only available in Japanese.
From April 28th – May 6th, an event will be held at Roppongi's Tokyo Midtown called ANA Presents HML (Hawaiian Music Lifestyle) Festival! This festival, meant to allow visitors to experience the Hawaiian lifestyle through music, will feature the new A380's Business Class seats, FLYING HONU model planes, and social media campaigns.
Based on a first come first serve basis, visitors will receive original goods.
We look forward to seeing you there!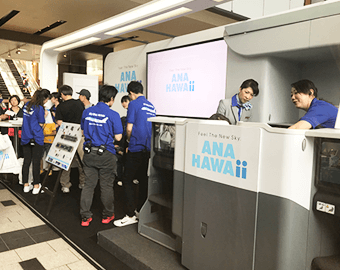 For more information, please click here: (Japanese only)
https://www.hawaiimusiclife.com/event/hml-festival/
* For more information on #hawaii24 click here: (Japanese only)
https://www.ana.co.jp/ja/jp/hawaii24/