Next Stop: ANA Automated Bus!?
Next Stop: ANA Automated Bus!?
On February 25th, near the ANA Maintenance Building, ANA collaborated with SB Drive Co., Ltd. of the SOFTBANK Group to conduct trial runs of an autonomous, driverless bus on a public road.
Particular attention was paid to a remote monitoring system called Dispatcher, which supports the controls needed for autonomous bus operation. A camera-sensor attached to the vehicle provides information such as in-vehicle and external images, location, and speed information, making it possible for real-time monitoring of the vehicle and remote control. Artificial intelligence (AI) is also used in analyzing in-vehicle images of the passengers, to caution them in situations that help ensure their safety.
ANA is working towards implementing autonomous driving technology at the airport by 2020 in cooperation with SB Drive, who has the autonomous driving technology as well as the Dispatcher technology that monitors safety for both vehicles and customers.
This trial was conducted with autonomous driving techniques equivalent to Levels 3 and 4 on a public road running the perimeter of the airport.
Level 3 means that the autonomous system is operating, but when the system is unable to respond correctly, a human driver in the vehicle can take over the driving. Level 4 is where there is no human driver in the vehicle. We conducted a Level 4 in this trial with a representative riding as a passenger who could respond in any case of emergency, along with a licensed driver who remotely monitored the operation.
The trial ended successfully with the bus running safely on the 1.4 kilometer (0.87 miles) course!
At the Haneda Airport hangar following the trial, ANA and SB Drive jointly announced plans for implementing autonomous driving technology at the airport from 2020 and beyond.
ANA Holdings Co., Ltd. President Shinya Katanozaka said emphatically, "The speed limit for vehicles at the airport is 30 kmh (18.6 mph), so the airport is an ideal place for using autonomous driving technology."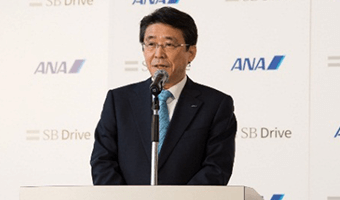 Testing of autonomous buses has only just begun. The ANA Group plans to put them to practical use at the airport from 2020 onwards and will continue to conduct these test runs in phases.